Keys are the most misplaced or lost EDC items. Until technology provides us with an all in one way to access our houses, office, desk, mailbox, and car by using our phones or cards; accessing these utilities will forever depend on how well we can maintain and secure our sets of keys. While we remain very optimistic that technology will soon come to the rescue of many, there is an answer to this problem already, but we are hardly aware of it. Key organizers are our answer to securing our keychains; at least in the short term. Just imagine having all your keys regimented in a small, sleek and beautifully designed casing that is easy to carry around with the rest of your EDC items, how cool?
There are numerous key organizers already out in the market from different brands with varying designs and prices, but with the right organizer, you can carry your otherwise messy keychain around with pride. Below are selections of the best key organizers that will help you get organized – just like with the rest of your EDC stuff.
KeyClip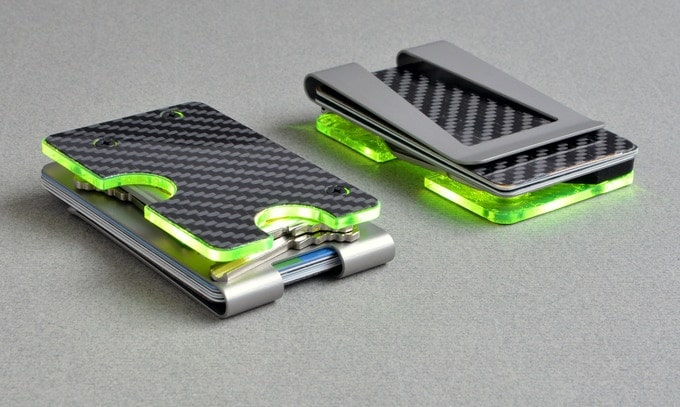 KeyClip is by far the best key organizer there is in the market thus far. KeyClip provides an all in one solution with its multi-tool, USB wrangler, money clip, and an RFID scanning-protected cardholder. The KeyClip casing is made from 301 stainless steel that can be adjusted to hold more keys and is easy to carry around.
KeySmart Pro Mossy Oak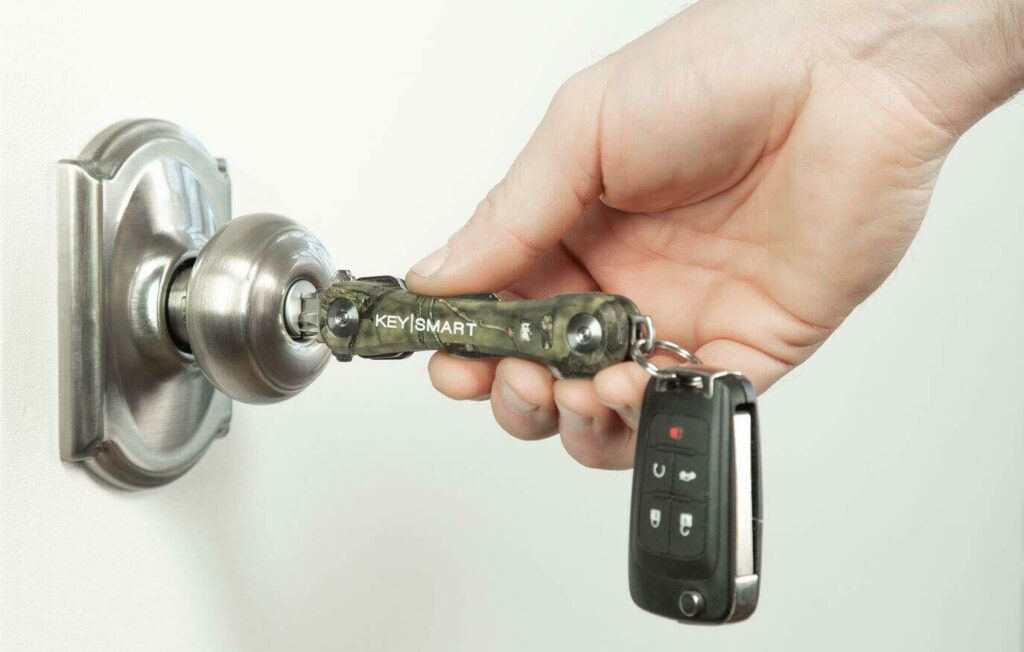 KeySmart Pro is an upgrade of the initial KeySmart organizer designed with mossy oak and integrated with a tracker tile from a popular maker of trackers. KeySmart Pro is slim in design like its predecessor and can carry a maximum of 10 keys – more than enough for all your keys to fit in. It is also fitted with a bottle opener, an LED flashlight, and a rechargeable battery. With the tracker tile, the KeySmart pro comes with a tracking tile connected to a mobile application that locates your keys in case they are lost or misplaced. Pressing the tracker tile button on the KeySmart Pro also rings your phone.
OrbitKey 2.0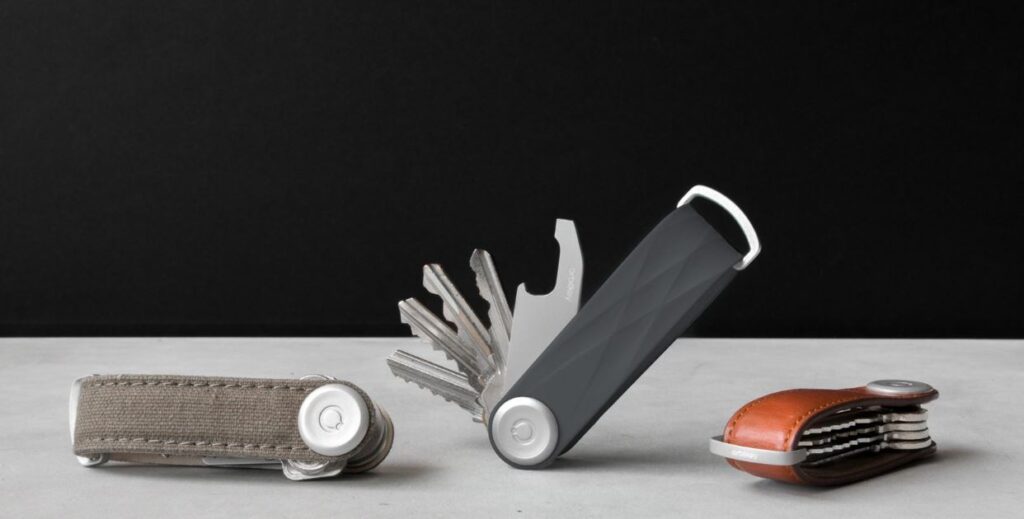 The OrbitKey 2.0 is a leather key organizer, slimmer in design that is encased in a long-lasting stainless steel locking system. OrbitKey 2.0 can hold up to 7 keys and other tools such as the multi-tool and a bottle opener. Its design features a combination of 500D Cordura and 1050D Ballistic nylon. OrbitKey 2.0 has an urban feel because of its digital camouflage.
KeyBar Carbon/Titanium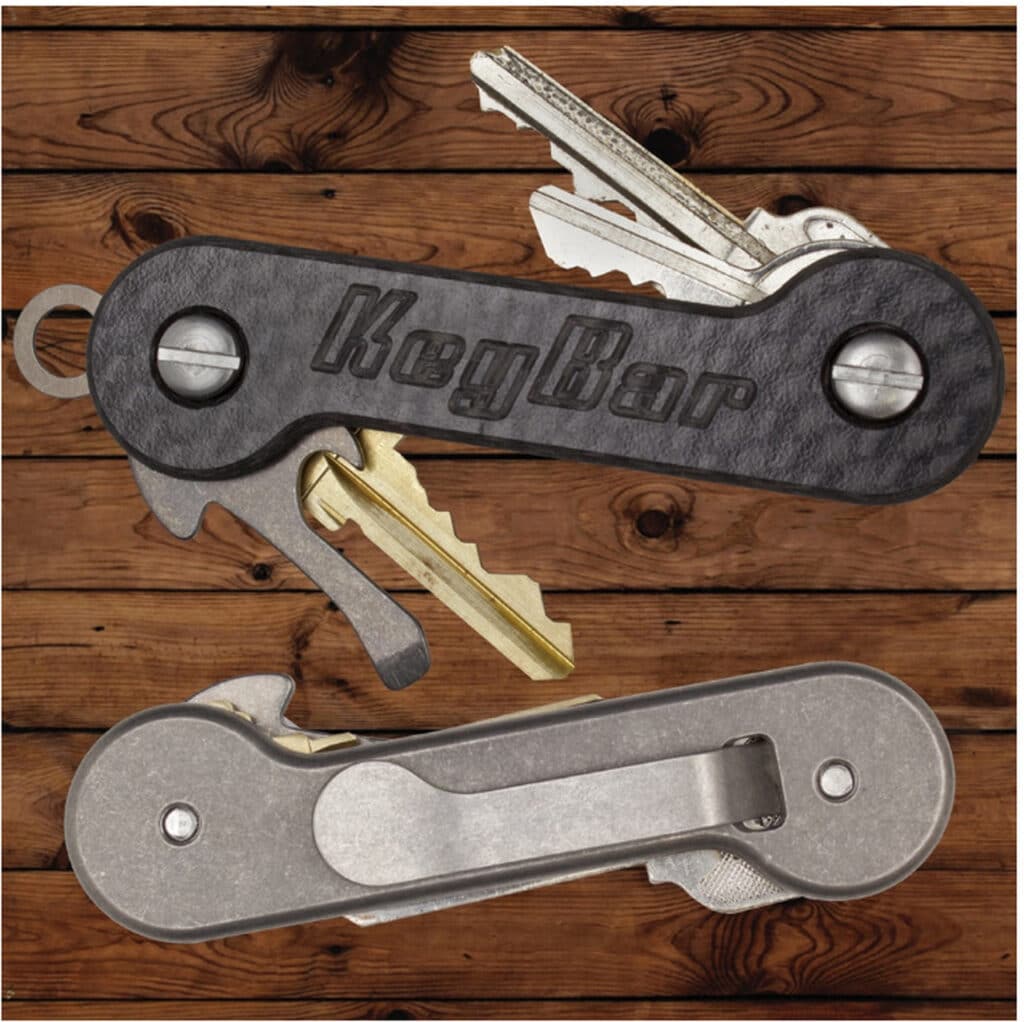 KeyBar is US-made and among the first EDC items. KeyBar has maintained its design over the years redesigning the casing only. The new KeyBar Carbon/Titanium features an efficient casing design with a simple keychain loop, two screw-down posts and two carbon and titanium slabs that can hold up to 28 keys when expanded. The Carbon fiber on the front and the titanium panel in the rear are light materials that make the product remarkably tough and light to carry around even with all the 28 keys in the casing.
KeyDisk 2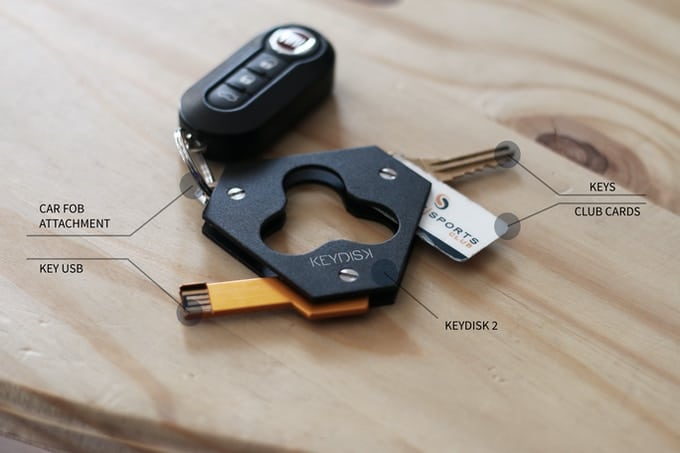 KeyDisk 2 is a predecessor of the KeyDisk designed in a minimal frame to provide maximum durability. The frame is made in a post-modern and angular design from anodized and sandblasted aluminum, making it exceptionally light. KeyDisk 2 can accommodate a maximum of 9 keys and is also designed to hold car remotes and standard key rings. It comes with an extra six washers that you can use to increase space for more keys.