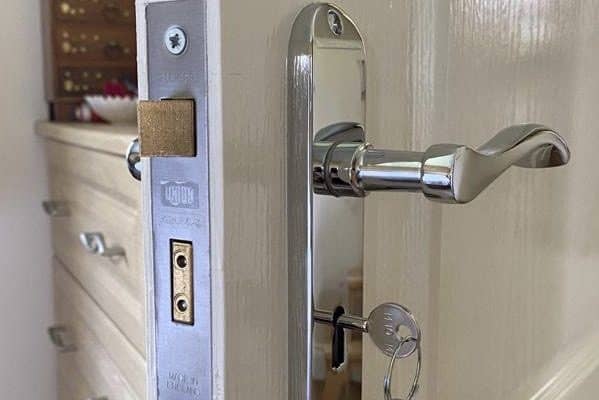 When you construct your own house, you may want to know that which door locks are best for your outside and inside doors. Door locks are the primary safety equipment of a residence.
Either you are in a commercial area, a residential area, or at any other place having doors nearby. You will see that door locks surround the entire area.
For many years, not a single device is made which can replace locks or even compete them when it comes to making the buildings safe.
Different door locks are used at different places. Some provide more security and some have a low level of safety. It is understood that the door locks which are safer, should be used at the outside doors and the door locks with less security can be used on the doors of rooms, etc.
In Philadelphia, Montco locksmith has been working for decades as a locksmith. Montco locksmith has never let the people down and they have always made the customers happy. If you want any type of locksmith service for your residence, commercial area, or auto cars. Montco locksmith can provide you professional services at affordable rates.
Choosing the right locks for your house should take time because the security of your areas relies on the door locks. We will help you out so that you can select the perfect ones for your house.
Types of Door locks
As we have talked about that door locks are of various types. Some are small, some are bigger. And in the same way, these locks also have different levels of security.
Some of the most common and preferred types of door locks are Doorknobs, Lever handle locks, Padlocks, Cam locks, and Sliding door locks.
All these locks are widely and mostly used locks all over the world. Wherever you go, you will find knobs, levers, and padlocks. The three types of locks are famous. All of the three locks are best at their own places.
However, these locks have pros and as well as cons.
Door knobs: Door knobs are round shaped locks that are compatible with the inside doors of the house. These knobs are perfect to look at and provide decent security. However, they are not secure enough to be used on the outside doors as a primary safety device. These knobs are also not useful where you want a handicapped to have access through the doors. Because they don't provide solid grips and can easily slip.
Pad Locks: Padlocks are of metal body with a powerful shackle on the upper side. Padlocks are portable small size locks and can be taken along. These locks give good security and most people, especially in Asia use these Padlocks on the main outer door of the residence.
Lever handle locks: Lever handle locks have a long lever that turns when force is applied. These locks are mostly used in areas where people are disabled or handicapped. Because they have no need to grip them. They open easily after a little force is applied to them. Lever handle locks are made for internal doors. They are never referred for the outside doors.
Sliding door locks: Sliding door locks are common with sliding windows. These locks look like they are just made for the windows. In our opinion, these locks must not be used as frontline safety devices. They are just used with the windows to make them look cool and pretty. Otherwise, the sliding locks provide zero levels of security to your doors and can easily break with a hit.
Cam locks: We all have furniture in our houses. To lock them, the best option is the cam lock. Cam locks are small in size and large in safety. These mini bombs are widely used everywhere on every furniture appliance. Highly referred if you want locks for your cabinets, drawers, or other home appliance on and small scale.
Door Lockout service
If you are in Philadelphia and want a locksmith service. There is really no need to waste your time waiting for help that might never reach you. Montco locksmith provides 24/7 service to their clients all over Philadelphia.
We have a staff of professional and experienced workers who can perform high standard tasks in minimum time. Our experienced workers can also guide you or help you choose the right option. They never harm the customer's privacy and they have never behaved badly with the customers.
Montco locksmith is always with you in your difficult times. Call us straight away when you need our service. We will immediately send our workers to your location and they will quickly solve your problem.
Call us any time anywhere, we are always here to help you. Montco locksmith will never let you down and you will not be disappointed with our services.