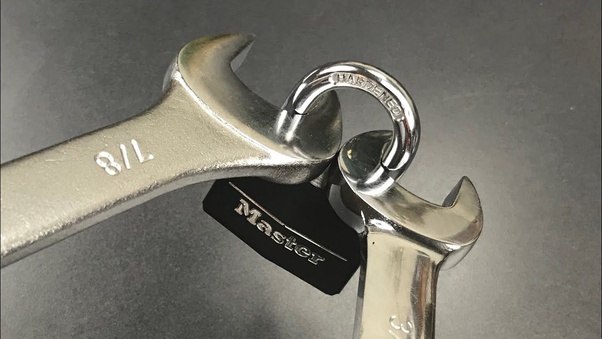 A master lock is known as the master of all locks in this world. A master lock is used by many people around the world to make their items safe. A master lock is a very convenient and handy lock.
Master locks can be locked by combination, key, or both. Never forget the combination or lose the key of a master lock. Also, don't try to drill the master lock as it will damage the drill bit, and the lock as well. However, if drilling is required, try to get a professional locksmith, who can drill the master lock properly for you.
You can unlock a master lock without a key if you have the following three things available with you,
Bolt cutters
An Allen wrench
A small pick
Follow the instructions provided in steps and you can easily open the master lock without any frustration. 
Step number 1: Firstly, carefully check whether you have a backup or not. This means when you purchased the master lock, have you put the spare keys somewhere under the bed or in the safe, or not. If you received the lock from work then there is a chance that you have a spare key to use.
Step number 2: if you know the number printed on the previous key that you lost, then you should go to a hardware shop and show them the number. There is a chance that you might get a new key from the shop if you know the number of the original key. Otherwise, no key can open the lock.
Step number 3: if you don't get any key, use bolt cutters to cut the master lock from where it is attached to the object. If it is not handy then you can try picking the lock.
Step number 4: insert the small pick inside the lock and then the Allen wrench. Start rubbing the teeth of the lock using that wrench and make sure you start rubbing it from inside and then you come out while rubbing. This might open the lock, but if it doesn't work. You can get a professional in work.
Step number 5: The last thing is to call a locksmith. The locksmith can remove the master lock for you. This can be and will be expensive but this is probably the only chance left for you.
Locksmith Philly can provide you with the best master key services in Philadelphia. You can contact us and we can help you open your master lock without the key. No matter if you lost the key or what. Our master key professionals will easily get you out of the frustration. Contact us 24/7. We are always by your side to help you.