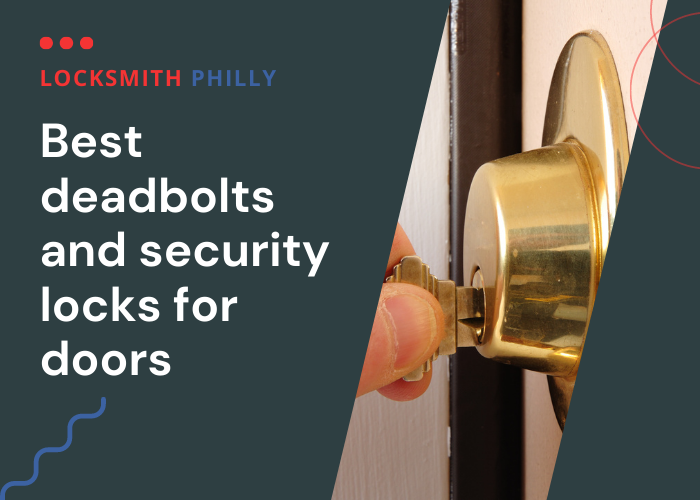 Doors are needed to be protected with the best locks. if the door is highly protected with the best locks, then it will eliminate the chances of a robbery or any mishap in your house or offices. You should get the best locks at work for your doors.
Not all door locks are created equally. Therefore we have rounded up the best options for you. If you don't have the right lock, anyone can easily kick the door down.
Four best locks and deadbolts for your doors
Kwikset 980 single cylinder (Best deadbolt) 
Schlage L9040 (Best mortise lock)
Schlage Touch Camelot deadbolt (Best keyless lock)
August smart lock (Best smart lock)
Features in a door lock or deadbolt 
Price 
Capability 
Lock type
Included warranty 
Whenever you choose a deadbolt or a simple door lock. The first thing that takes your attention is the price of that lock. After the price, you should check whether the lock is capable of providing the level of security that you want? For this, you have to make sure that what type of lock you are going to purchase. After you check all the things, take a look at the warranty of your lock. This will help you in the situation if your lock breaks or stops working. You can claim the lock-in warranty from the company and get it repaired or get a new one.
Check all the things carefully before you purchase a lock to make sure that you don't have to face any other problems after buying it. If you want the lock to work with your smartphone or a keypad. Then you should buy a smart lock. These smart locks are very reliable and almost everyone prefers them when it comes to getting locks for the home's safety.
Best deadbolt
Keep the doors secure by installing a deadbolt to them. The deadbolt is attached to the standard lock of your door. It is kind of merged inside the lock and provides a high level of security. Deadbolts are reliable than a spring bolt lock because a deadbolt cannot move from its locked position without a key in the cylinder.
Kwikset 980 with a single-cylinder is the best deadbolt that is used nowadays. It is one of the top-rated deadbolts in the market. Its SmartKey technology makes it easy to rekey your lock and avoid locksmith fees. So you don't have to get a locksmith and pay him extra money if you want to rekey your Kwikset lock.
The price of a Kwikset lock is not much and is kind of equal to a standard lock. A single-cylinder Kwikset 980 will cost you around 30$ to 37$. But this price is nothing if you are getting the best security for your valuables.
Kwikset deadbolt is amazing and demanded also because of its adjustable feature. It adjusts to all kinds of doors with standard thickness. Its ANSI grade is 1 and it also has a standard weight of 1.5. Due to these, Kwikset is a highly demanded deadbolt all over the world.
Deadbolt runner up 
Kwikset 991 Juno comes second in the race. This lock is the one that can compete with the 980 deadbolts. As both are deadbolts and provide the best level of security, you can close your eyes and choose any of these for your doors.
It is all similar to the 980 and uses smart technology as well the only difference is the weight that it has weight more than the 980, which is 2.72. And the ANSI grade is also 1 similar to the 980 deadbolts.
These are the two best deadbolts for your doors. You can choose any of these and make your home safe and secure from robbers.