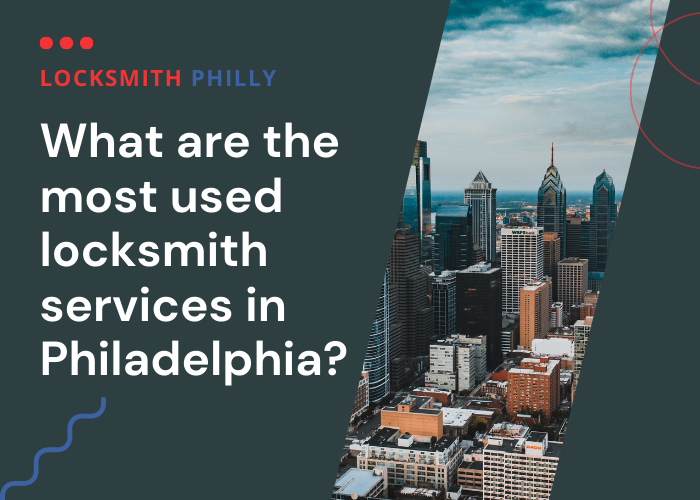 As mentioned in the name, locksmith services are related to locks of different things. Like locks of cars, doors, cabinets, and all the other things in this world that have locks. A locksmith is a person who does this job for the customers.
Locksmith services are provided for different lockouts. Like residential lockouts, auto lockouts, commercial lockouts, etc. There are a lot more locksmith services provided all over the world but these three locksmith services are the most demanded in Philadelphia.
Everyone in the country has a car, owns a house, and goes to work in a commercial area. Therefore, they mostly face lockouts in these areas. And when they face lockouts in residences, commercial areas, and cars. Then they ask for these locksmith services. This is the reason why these three services are the most asked services in Philadelphia. Let us explain to you a bit about these most wanted services.
Auto car locksmith service
Everyone in the country has a car and all the cars work with keys. It is universal fact that car keys are the most misplaced things in the world. Some forget them inside the car, and some forget them in a public place.
No matter where you leave your car keys. You cannot get inside the car without getting your keys back. In this situation, you don't know where the keys are. So, you have to call an auto locksmith to provide you with the auto locksmith service. He will either make a duplicate key for your car or he will do something to get you back inside the car. 
Residential locksmith service
If you have locked the door of your house and suddenly you remember that you forgot the keys inside, congratulations! You need a locksmith. A residential locksmith provides services for your residence. He can open the locks of the house for you and can also repair or replace them if required. 
When you will call the residential locksmith, he will reach you at our home and will open the door for you. Then you can get back inside the house and get the keys from inside. Along with this if you are facing problems with the door locks of your rooms in the house, a residential locksmith will provide you with this valuable service of repairing the locks inside your house.
Whenever you face a residential lockout, call the locksmith who provides the residential locksmith services. They will charge you a bit more than a car locksmith, but they are worth it as well.
Commercial locksmith services
Commercial areas are needed to be secure. There are many valuables inside any commercial area. Therefore the safety of such areas must be higher than the other areas as well. Imagine that when you reach your office, you find out that the employee with the keys has not arrived yet or you had the keys but forgot them or lost them. This is a bad thing. It can cost you time as well as money. Because the business is stopped for a while.
Immediately call a commercial locksmith to reach your office and open up all the doors that you want. The commercial locksmith will charge you enough but getting these services can help you get back to the work and earn great revenue again. 
Moreover, a commercial area must be secured with CCTV camera systems and high-quality locks. This security will also be installed by a commercial locksmith. If you want to make your business more secure than before. Call the commercial locksmith to get the most wanted amazing service of a commercial locksmith.
These are the most used locksmith services in Philadelphia. Almost everyone has to get one of these services in a year. Therefore, the locksmiths are always ready to do the job for you. There are many locksmiths around providing such services. So it is up to you to find the best one for you.