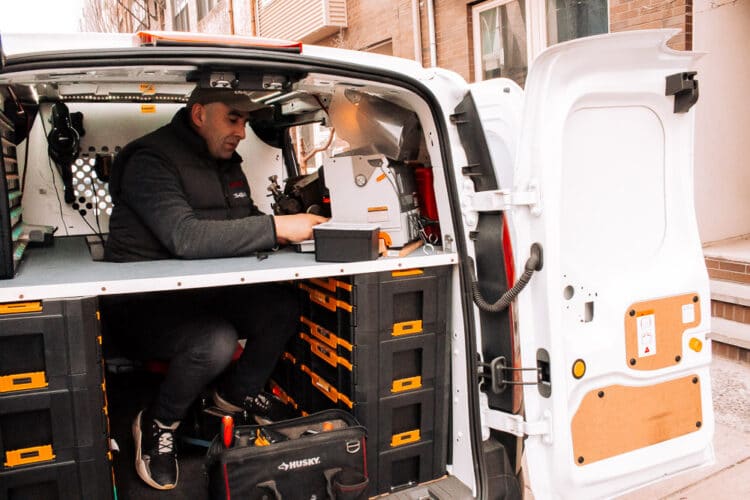 Locksmithing is one of the oldest professions that has been around for more than 2000 years. In ancient times locksmiths had to work on locks for hours, nowadays modern equipment and tools enable locksmiths to offer a wide range of services and operate quickly. A mobile locksmith is a trained lock professional who makes service calls. Mobile locksmiths use vans to deliver services. Vans are fully equipped with necessary tools and equipment so locksmiths can perform a variety of services on your location.
One of the best advantages of mobile locksmiths is that they come to you instead of you going to them. It saves not only lots of energy but also time because mobile locksmiths in Philadelphia have fast response times. In addition to this, mobile locksmiths offer 24/7 services, and that is very convenient because lock problems may occur at any time of the day or night.
Mobile locksmiths offer different types of services, such as rekeying and changing the locks, emergency lockout service, installing transponder keys and high-security systems, etc. An emergency lockout service is one of the most popular that mobile locksmith offers. Emergencies happen all the time, and people lock themselves out of their vehicles, houses, or offices quite often. It is important not to panic and remain calm in this kind of situation because panicking prevents people from thinking clearly and rationally. First of all, try to remember if you have a spare key somewhere or if your family members, friends, or colleagues have one. If not, then your best option is to call a local mobile locksmith. Sometimes people try to unlock the doors themselves by using the tricks they find on the Internet, but only a few of them succeed. Most of them, regardless of how handy they are, cause damage and end up paying extra money because of it. Professional locksmiths work fast and will open the door in just a couple of minutes. You can get back inside your house, car, or office and continue your day without your plans getting distorted.
Cars are one of the most accessible and fast types of transportation that people use daily. That's one of the reasons why car keys are lost or misplaced so often, and lost car key replacement service is so popular. If you don't have a spare key, losing your car keys can be very frustrating. First of all, make sure that your keys are lost by checking the area near the car and the ground. In addition to this, check all your pockets and bags. If even after this, you still can't locate your car keys, then you should call a mobile locksmith in Philadelphia. A mobile locksmith will be able to replace your car keys and cut a new one on the spot in less than half an hour. Locksmiths who have experience and knowledge about locks offer quick and effective solutions.
A key often gets stuck into the ignition switch, and ignition key extraction is one of the most popular services. People love trying to fix the problem on their own, but try not to poke around into the ignition cylinder because the chance of you damaging it is quite high. You might find some helpful tips on how to get a broken key out of the ignition switch on the Internet, but since you don't know how deep the broken pieces are stuck, there is always a possibility that you might push them deeper instead of getting them out. So, sit back, call a mobile locksmith, and let the professional handle it.
One of the most common questions that people have, when they hire a locksmith, is whether they need to have their locks re-keyed or changed. People usually need to have their keys re-keyed because they want an old one to stop working, for example, when they move into a new house. The previous owners might have given the spare key to family friends or family members and might have forgotten all about it. Since you can never be sure how many copies of your house keys are out there, re-keying the locks is always a good idea. It is a cheaper alternative to changing the locks and guarantees that no one except you has access to your home. Sometimes changing the locks is inevitable if the locks are worn out or damaged in any way. A professional mobile locksmith will have no problem with changing or re-keying the locks.
Installing the new locks is one of the easiest and frequently performed services by mobile locksmiths. Since we use doors daily, after some time the locks might fall apart or break. Locks are essential to safety not only at home but at the offices too because the owners want to protect the employees and valuables. Changing the locks isn't always necessary, and sometimes it is enough to repair them. Regardless of what type of door you have, mobile locksmiths will take a look at it and give professional advice on which one you need to change the locks or fixing them.The mobile locksmiths offer all the above-mentioned services and even more! They have expertise, tools, and equipment to operate effectively and solve all of your lock-related problems quickly. Choosing the right locksmith company is quite a challenging and tiring process because there are many options out there, and you might not even know where to start. First of all, hiring the local mobile locksmiths offer lots of benefits, such as fast response time. When you are locked out in the middle of the night and freezing, the last thing you need is to be waiting for a locksmith to arrive for hours. Reading online reviews written by previous customers can also be helpful to choose a reliable, professional, and experienced locksmith. It is always a good idea to have a locksmith's phone number just in case, so if you ever think "I need a mobile locksmith near me" then you can avoid wasting time looking for a locksmith and call the number you already have.